Bay Area quake caused refineries to flare; 'What happens if there's a big one?'
A 4.5-magnitude earthquake centered in Pleasant Hill on Monday night caused flaring at the two refineries in Martinez, local officials said.
Flaring is a safety procedure to burn off excess gas. At the Marathon Petroleum refinery in Martinez, flaring stopped at 6:30 a.m. Tuesday, according to a company spokesman.
Portions of the Marathon refinery shut down after the quake and things restarted early Tuesday, Contra Costa County health department spokesman Will Harper said.
Flaring also occurred at the Shell refinery in Martinez, Harper said.
Shell spokesman Ray Fisher said by email that "some equipment was temporarily affected by the quake," but operations were back to normal Tuesday morning.
The Chevron refinery in Richmond sustained "no known damage," according to a spokeswoman. Valero spokeswoman Lillian Riojas said in an email Tuesday that there were no major disruptions at the company's Benicia refinery, and operations are continuing.
But the problems in Martinez prompted some people to wonder what will happen when a bigger quake strikes.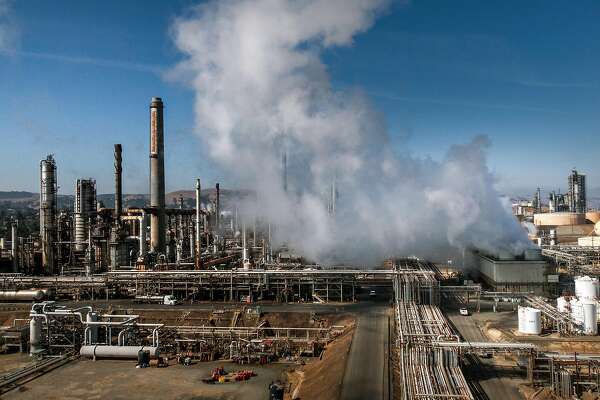 Photo: Paul Kuroda / Special to The Chronicle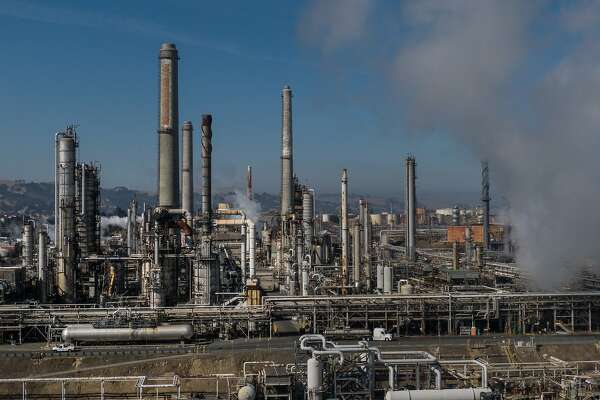 Photo: Paul Kuroda / Special to The Chronicle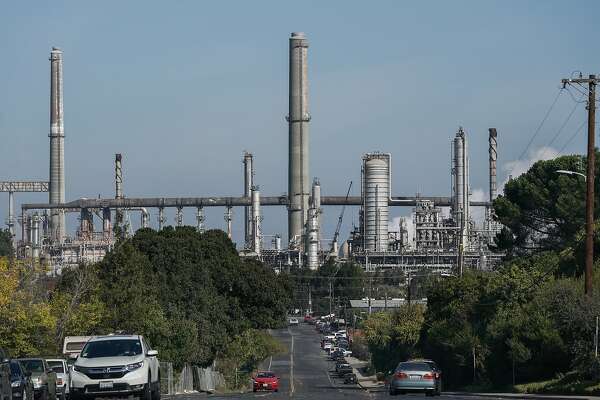 Photo: Paul Kuroda / Special to The Chronicle
"Thank God for a small one last night, but what happens if there's a big one?" said Torm Nomprasseurt, a senior community organizer with the Asian Pacific Environmental Network who has lived on the fence line of the Chevron Richmond refinery since 1975.
When there is a siren warning the community because of a flare at the Chevron plant, he shelters in place with his family.
"But if an earthquake happened … and we can't stay in our house, what are we going to do?" he said.
"This is one of the challenges of living in an earthquake area with the industrial belt," Rep. Mark DeSaulnier, D-Concord, said Tuesday. He said officials have "gotten progressively better in the 25 years" with notifying communities about instances like flaring at refineries.
Amy Myers Jaffe, who served on the California Energy Commission's Petroleum Market Advisory Committee and is now based at a think tank in New York, said refineries carry significant safety and environmental risks. In an earthquake, underground pipes can rupture and storage tanks of gasoline or other chemicals burn.
Robert Young, associate professor of chemical engineering practice at USC School of Engineering, who used to work for Exxon, said "flaring is a very important safety measure" because it combusts highly hazardous or acutely toxic materials instead of releasing them into the ground or inside the facility.
The plants are equipped with safety devices that tell operations to shut down automatically when a vibration is detected, said Ralph Borrmann, spokesman for the Bay Area Air Quality Management District.
"It's a normal process that occurs when the safety devices get triggered," Borrmann said.
The air quality district is conducting an investigation following the quake, part of standard protocol.
At 11:10 p.m. Monday, due to the Marathon refinery problems, Level 1 of the community warning system was issued, the company said. On a scale of 0 to 3 that meant there were no expected off-site health impacts and only the health department and other county agencies were notified, according to Harper, the Contra Costa County spokesman. In the case of more significant incidents, the county would issue an advisory to the community.
Separately on Tuesday afternoon, at least two tanks caught fire after an explosion at a tank farm at a NuStar facility in Rodeo in Contra Costa County. A 4.7-magnitude earthquake struck near Hollister (San Benito County) on Tuesday shortly after noon, but it was unclear whether the explosion was quake-related. Hollister and Rodeo are 100 miles apart.
The tank farm stores fuels and hydrocarbons, according to Randy Sawyer, Contra Costa County health officer, who said officials were trying to determine the explosion's cause.
The Contra Costa County Sheriff's Office released a shelter-in-place alert: "There is a hazardous materials emergency in Crockett and Rodeo at the NuStar facility. The danger will be much less indoors. Go inside, and close all windows and doors. Turn off all heaters, air conditioners, and fans," the alert read.
"Unless you are using your fireplace, close your fireplace dampers and vents. Cover any cracks around doors or windows with tape or damp towels. Stay off the phone unless you need to report a life-threatening emergency at your location. Remain sheltered indoors until you receive further official instructions. Stay off the phones and do not call 911 unless you have a life threatening emergency."
According to the company website, the facility has 24 tanks and holds a capacity of 3.04 million barrels.
---
Chronicle staff writer Anna Bauman contributed to this report.  Mallory Moench and Megan Cassidy are San Francisco Chronicle staff writers.