Repost from ABC13 KTRK-TV, Houston TX
Explosion rocks refinery in Pasadena, injuring one
By Deborah Wrigley, Saturday, March 05, 2016 11:06PM

PASADENA, TX (KTRK) — One person was burned after an explosion at a Pasadena refinery Saturday morning.
Officials at Pasadena Refining Systems, Inc., say the fire began around 10:15am at their refinery off SH 225 and Lawndale Street.
The victim suffered burns to his hands.
Residents in the area told abc13 they felt a powerful blast right before flames began to rise from the plant.
A spokesperson says it all started with an issue involving a compressor. A fire quickly broke out, with burning diesel fuel sending huge plumes of black smoke into the air.
The refinery has their own firefighters, who were able to put out the blaze. Pasadena Police and fire are on standby to assist. The fire was able to be contained and air monitoring indicated no issues.
Drivers and bystanders tell Eyewitness News they could see the smoke miles away from the site of the fire.
The Washburn tunnel was closed by authorities after the explosion.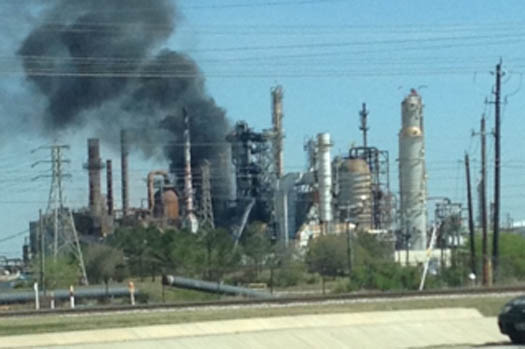 According to the Environmental Protection Agency, the plant has a history of 'significant violations' of the U.S. Clean Air Act, and was assessed $1,143,000 in fines because of these violations.
A complaint was filed against the company for failure to follow regulations in connection with the storage of a motor vehicle and engine fuels. The company also paid $2,000 in fines for this in August 2014.
The plant is known to store several chemicals, including Ammonia, Benzene, Ethylene, Hydrogen Cyanide, N-Hexane, Propylene, and Sulfuric Acid.
According to the EPA, there are 20,901 households in the area around the plant, and 24,484 children also live in the area.