Repost from Sudbury.com
Garneau confirms DOT-111 cars will not be able to transport crude oil as of November 1
By Canadian Press, Jul 26, 2016 8:26 AM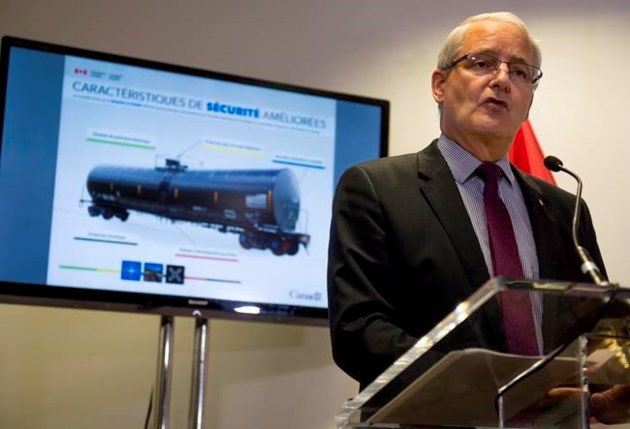 MONTREAL — Canada will put a stop to the transport of crude oil by older and less crash-resistant tanker rail cars earlier than scheduled, Transport Minister Marc Garneau announced Monday, however, the timeline for ending similar transportation of all other flammable liquids remains the same.
As of Nov. 1, crude oil in Canada will no longer be transported in DOT-111 tankers — the same kind of rail car that was involved in the Lac-Megantic tragedy in which 47 people died three years ago.
The DOT-111 cars without thermal layers of protection were scheduled to be phased out for the use of crude oil by the previous Conservative government by May 2017.
DOT-111s with thermal protection were to be taken off for oil transport by March 2018.
The new directives are for crude oil only, Garneau said, adding the phase-out deadline for DOT-111s carrying other flammable liquids is 2025.
Garneau said while he was able to accelerate the phase-out of DOT-111s for crude, the government needs to be "realistic" about other materials.
"The reality is that in this country we transport a huge amount by rail — hundreds of billions of dollars worth a year — and you can't do everything in one shot," he told a news conference.
"Here we have the opportunity to do something very concrete on the crude oil side — which is extremely important — and I am very proud of it."
The Transportation Safety Board of Canada said in its report on the Lac-Megantic crash that until older and less crash-resistant tanker cars "are no longer used to transport flammable liquids and a more robust tank car standard with enhanced protection is set for North America, the risk will remain."
Montreal Mayor Denis Coderre saluted Garneau's announcement, saying "when we talk about (rail) safety we have to show it, we have to walk the talk."
Vicki Balance with the Canadian Association of Petroleum Producers said the oil industry knew the Liberals were considering making changes but didn't know what they were going to be.
"(The announcement) brings some certainty and predictability for us, which is positive," she said.
On July 6, 2013, a runaway freight train pulling 72 crude-oil laden DOT-111s derailed and exploded, killing 47 people and destroying part of downtown Lac-Megantic.
In response, the U.S. and Canada created a series of new regulations to make rail transport of hazardous materials safer.
Former Transport Minister Lisa Raitt and her U.S. counterpart Anthony Foxx in May 2015 announced new regulations for tanker cars made after Oct. 1 of that year, for transporting liquid dangerous goods across the continent.
The new cars, known as TC-177s in Canada, are made of thicker steel than the DOT-111s and have other added safety measures.
Raitt and Fox also announced that all DOT-111s would have to retrofitted or phased out for the use of crude oil by 2018 and all other rail cars transporting any dangerous, flammable liquid would have to meet new safety requirements by 2025.
Garneau said Monday the new rules will only apply to Canada.
He said no DOT-111 train originating from the U.S. and carrying crude oil will be able to cross into Canada after Nov. 1, and violators will face financial penalties, but he didn't say how much they would be.
Garneau said there are about 30,000 DOT-111s without a thermal layer transporting crude oil on railways in North America. He didn't have a precise number for the cars with the protective layer.